MeanFi Grow your money stash with the best prices across DeFi. MeanFi  is A Self-Custody, Permissionless & Trustless Bank. MeanFi brings Crypto and DeFi to everyday banking.
MeanFi IDO Whitelist on Solaium
JOIN WHITELIST: https://solanium.io/project/meanfi/?ref=U3hnINng
Majority of the to-be-sold tokens will be allocated to Staking Pool tickets. You can only get Staking Pool tickets by staking SLIM or SLIM-LP tokens. Increase your Staking Pool tickets by increasing your token stake or extending your lock time.
A small percentage of the to-be-sold tokens will be allocated to the Social Pool. You can collect Social Tickets by performing various social tasks.
About MeanFi
Features
MeanFi is a user-friendly, self-custody, permissionless & trustless bank bringing crypto and DeFi to everyday banking workflows. We are building the bridge between TradFi and DeFi to onboard the next One Billion users onto crypto.
MeanFi gives everyday banking users the most amazing and simple DeFi experience on Solana with access to:
1) A simple exchange with the best liquidity markets
2) Users can execute DCA strategy to invest daily/weekly/monthly on their favorite tokens
3) Schedule automatic repeating payments for remittances and facilitate payroll for businesses and contractors
MeanFi is powered by the Mean Protocol, which provides the foundations for developers to bring TradFi workflows into their a DeFi apps. Mean Protocol Money Streams allow for fully-liquid, capital-efficient, streamable TVL across protocols, and act as an interoperability layer for the entire Solana Ecosystem.
Money streams
One time exchange
Recurring exchange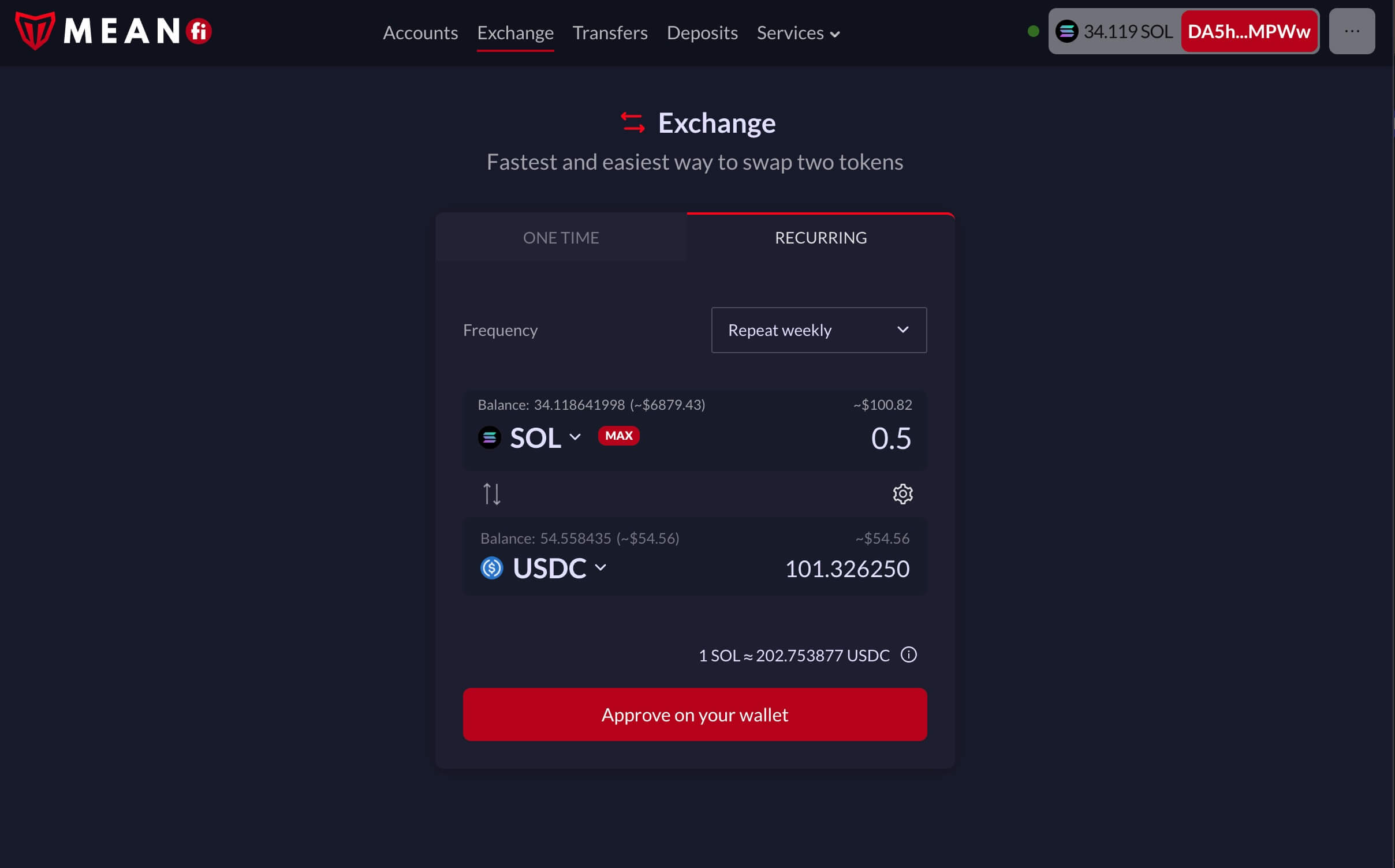 Payroll
Roadmap
Roadmap (2)
Team
TEAM:
A seasoned team with vast experience both in IT, Software Engineering, Product and Crypto, with many years of working together like a well-oiled machine.
1) Michel T. – CEO: Computer Scientist & Serial Entrepreneur. Deep into crypto since 2011. Michel studied Computer Science, and is an investor and entrepreneur with two previous crypto ventures and exits. Over 15 years in tech, servicing startups and Fortune 500 companies. Michel handles strategy, roadmap, operations and leadership for the Mean DAO.
2) Eydel R. – CTO: Computer Scientist, distributed computing and security infrastructure expert. Eydel and Michel come together all the way from high-school, through university, and professional career. Over 15 years in tech, servicing startups and Fortune 500 companies. Eydel handles infrastructure, DevOps, security, blockchain engineering and smart contract architecture.
3) Yamel A. – Information Technology and Software Engineering. Working with Michel and Eydel for the last 5 years. Yamel brings over 15 years in tech, and have delivered applications across mobile, web and embedded systems for startups and enterprise companies. He leads all web development, blockchain client integrations, design, prototyping and mobile experience.
4) Maylin R. – Information Technology and Product Management. An early and active crypto enthusiast and investor. Maylin is the Kronos that keep things moving fast on the product side. With over 5 years of experience in tech and crypto, she manages the Product pipeline, releases, QA, integrations and documentation.
5) Yansel F. – Information Technology and Software Engineering. A seasoned enterprise architect with a newfound passion for blockchain tech. Yansel brings a wealth of knowledge with over 10 years in software, and 2+ in crypto. He's in charge of backend systems integrations, blockchain smart contract development, and middleware development.
Tokenomics
70% Community & Rewards
20% Team & Advisors
10% Token Sale
Investors
Token distribution

REGISTER ACCOUNT TO GET BIG BONUS 💰!



Follow us to get the best Whitelist Alerts:
Join Telegram: https://t.me/whitelist_alert
Follow Twiter: https://twitter.com/whitelistalert
Join Facebook Group: www.facebook.com/groups/whitelistalert
Bookmark the website: https://whitelistalert.com/