Kingdom Karnage (KK) is a cross-platform virtual Trading Card Game available to play on PC and Android.
Kingdom Karnage IGO Whitelist
IGO Whitelist
JOIN WHITELIST: https://wn.nr/4zU4Hm
👑 Kingdom Karnage Token Airdrop and IGO Whitelist! 👑
 🥇 Top 25 highest score: Guarantee Whitelist for IGO
💎 50 will be randomly selected for IGO whitelist
 👑 500 will be randomly selected for token airdrop up to $5000USD
  $KKT will be airdropped 3 days after the Public Sale and each worth $10 of $KKT token
KINGDOM KARNAGE would like to extend our sincere thanks to all of our beloved community who have been following and supporting us.
As a token of our thank we are launching the first airdrop campaign to all members and followers
All steps are mandatory. Users must register and complete all steps listed below.
Provide your BEP-20 address for the airdrop
IGO Details
We are partnering with 3 launchpads on 3 different dates as follows:
Times and further details will follow. All sales will be first come first serve.
We advise you do your research on our partners prior to the sale, KYC will be required which can be done in advance and there will also be a requirement around holding their launchpad's native token.
The token will be listed on PancakeSwap shortly after the final listing.
Whitelist – Community presale and Gleam contest winners
An allocation whitelist has been drawn up that includes:
– Everyone from the community that completed level 30 of our Undead campaign and completed our pledge form (now closed).
– The winners of the recent Gleam contest that won allocation as prizes.
The whitelist will be through EnjinStarter but there is no requirement to hold any $EJS for whitelisted allocation.
Note: Whitelisted presale will also be on the 11th January, but will be at a different time to the public sale so please pay attention to the different times as details are released on our Telegram/Discord/Twitter. There will be no whitelist available if you attend at the public sale time which will be first come first serve.
About Kingdom Karnage
What is Kingdom Karnage?
Kingdom Karnage (KK) is a cross-platform virtual Trading Card Game available to play on PC and Android (Apple coming soon). All assets in the game can be withdrawn as tokenised FTs/NFTs and are infused with Enjin Cryptocurrency. KK is now fully on Enjin's Jumpnet which means there are no gas costs at all.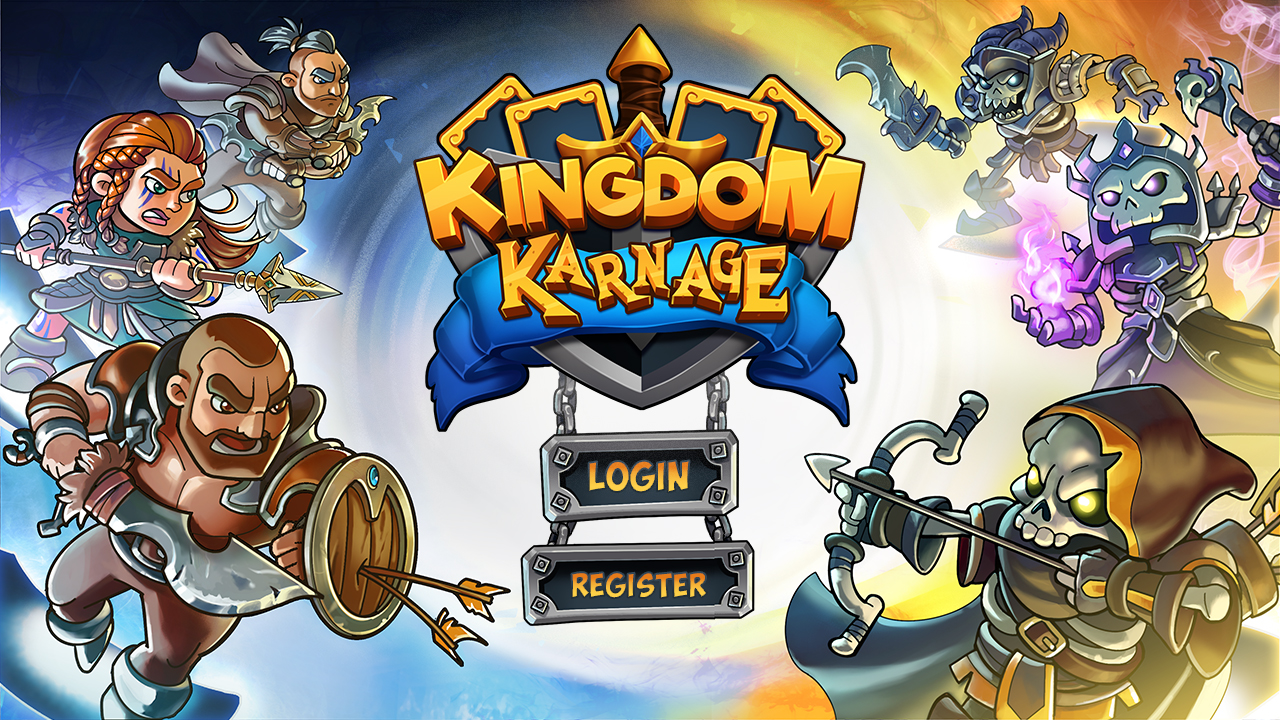 The game
Each player builds a deck of up to 30 cards from varying rarities (Common, Uncommon, Rare, Epic, Legendary) which you take into battle. The aim of each battle to reduce the enemy hero's health to zero before he manages to deplete your hero.
Gameplay
• At the start of a match you draw 3 cards at random from your deck.
• Each card has a cooldown and requires 1-4 turns to become playable.
• At the start of each turn the cooldown of each card in your hand decreases by one.
• When a cards countdown reaches 0, click to select it.
• Select one of the Drop-Zones highlighted in GREEN.
• Click again in the same place to confirm playing that character.
• The battlefield highlights in YELLOW where your character will move and in RED where your character will attack.
• When you select an available Drop-Zone you can change your mind or click again to confirm playing that character.
Your objective is to overwhelm the enemy troops and defeat your opponents hero. Each character has an attack value and a health value.
The attack power is how much damage a character deals to enemy characters and heros. When the enemy hero's health is reduced to 0 victory is yours.
Team
The Kingdom Karnage team hail from all over the world, including America, England and mainland Europe. Gelled together by a love for what they do, they each bring a unique skillset that helps make Kingdom Karnage what it is today.
Nick
Founder, CEO and Developer of Kingdom Karnage. A gaming & defi fanatic, the perfect mix of interests to bring GameFi to Kingdom Karnage.
Kandi
Lead Artist. Kandi has a wealth of experience producing art for video games, featured in many games and worked for EA games on Simpsons: Tapped Out
Sam
Community & Events Manager. Having spent the last 3 years in crypto & crypto gaming, Sam has introduced initiatives such as Bounties & Weekend Events.
Community
Community Links
Telegram: t.me/KingdomKarnage
Discord: discord.gg/VJtbCAH
Twitter: twitter.com/Kingdom_Karnage
Game links
Steam: store.steampowered.com/app/1305000/Kingdom_Karnage
Android: play.google.com/store/apps/details
id=com.KepithorStudios.KingdomKarnage
Browser: KingdomKarnage.com/#Play

REGISTER ACCOUNT TO GET BIG BONUS 💰!

BINANCE | HUOBI | MEXC | KUCOIN | BYBIT | GATE | FTX | COINLIST

Follow us to get the best Whitelist Alerts:
Join Telegram: https://t.me/whitelist_alert
Follow Twiter: https://twitter.com/whitelistalert
Join Facebook Group: www.facebook.com/groups/whitelistalert
Bookmark the website: https://whitelistalert.com/