CryptoGPT is the ZK Layer-2 blockchain that powers the AI revolution. $GPT blockchain hosts apps with 2+ million active users, placing it as one of the biggest blockchains at launch.
CryptoGPT refer and earn
Link to join: https://vrlps.co/tl5wx7u/cp
🏆 Here are the winner prizes ⤵️
👉 2 people referred = app access
👉 7 people referred (500 winners) = $10 $GPT + app access
👉 20 people referred (200 winners) = $50 $GPT + app access
👉 100 people referred (50 winners) = $500 $GPT + app access
👉 400 people referred (5 winners) = $1000 $GPT + app access
💥 Breaking News: DaoMaker platform announced that it will organize SHO for CryptoGPT ❗️
Invite your friends and as they sign-up you will get rewarded for each milestone you reach.
To finish your participation and qualify for rewards:
Follow $GPT on Twitter: https://twitter.com/CryptoGPT_org
Subscribe to announcements: https://t.me/CryptoGPTNews
Join chat: https://t.me/CryptoGPTorg
About CryptoGPT (GPT)
What is CryptoGPT (GPT)?
CryptoGPT is the ZK Layer-2 Blockchain that lets you own the monetisation of your AI data. Turn every task of your daily life into a source of income.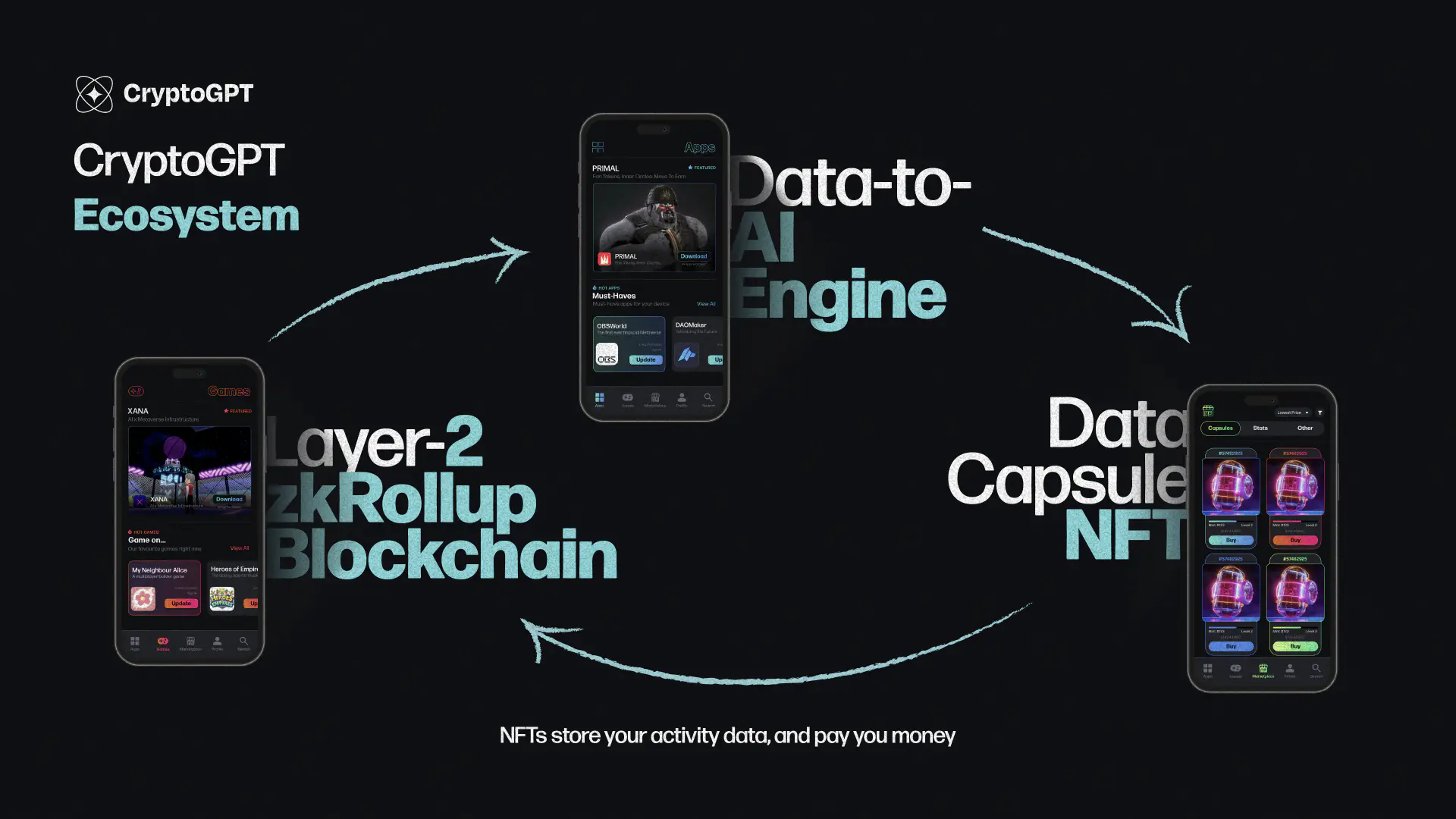 Capturing a Trillion Dollar AI & Data Market
Data is the new holy grail: the asset that powers the AI revolution. Without data, it is not possible to build and improve AI. Big tech – Meta, Google and many others – are built on monetizing user data.
CryptoGPT is the 1st technology to successfully merge blockchain and AI, built to decentralize the wealth of the trillion-dollar AI & data market.
CryptoGPT supplies data for AI: a trillion-dollar business ready for decentralization and disruption.
Apps with 2+ Million Users Building on CryptoGPT
ChatGPT is the fastest growing app in human history – It was first to create an AI app that retail can use. But ChatGPT is funded privately – you can't get a piece of OpenAI's success.
AI projects exploded in growth in recent weeks – but they have a problem: none of them have enough users to reach virality like ChatGPT.
CryptoGPT already has apps with 2 million users – the only AI platform to come close to ChatGPT's success. Developers of lifestyle, music, gaming, dating, travel & other apps join CryptoGPT's ecosystem to unlock a new source of data income.
Now is the perfect time for CryptoGPT to come out of stealth, developing since mid 2022.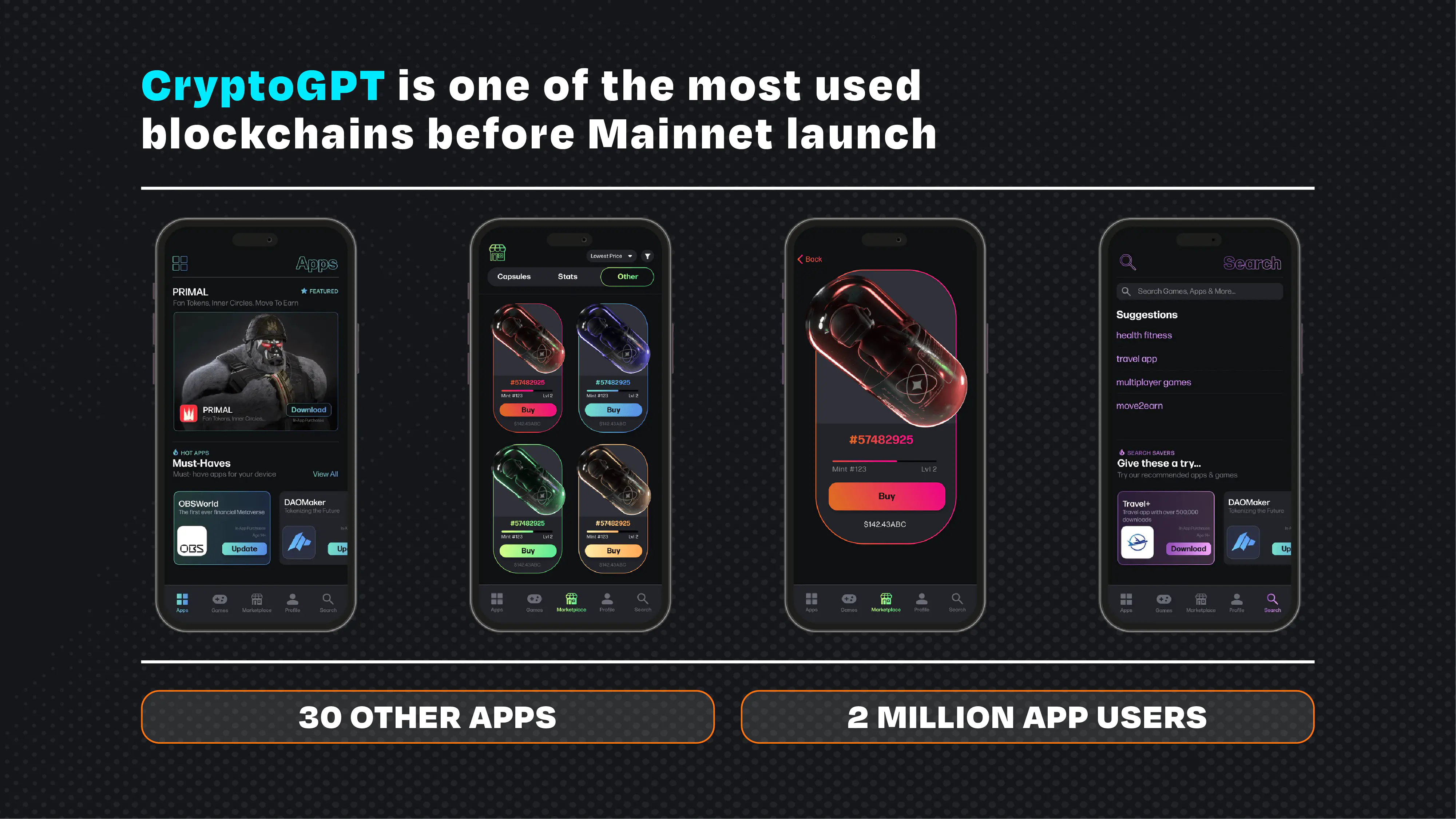 1st Sustainable 2Earn in Web3 History
Move-to-Earn startup STEPN onboarded 5+ million users in months, while Play-to-Earn game Axie Infinity peaked at 3+ million total users, but there was a big problem with 'to earn' tokenized startups – they are unsustainable and experience infinite token inflation.
The only way to fix the infinite inflation in 'to earn' is by having a strong foundation of revenue backing the payouts to users.
CryptoGPT, like ChatGPT, is aimed at mass retail adoption – in contrast to other blockchain-based AI projects. This opens up an untapped market opportunity: entering the market via consumer apps. Owing to our web3 native marketing channels and value proposition, we have already onboarded applications in gaming, fitness, education, travel and other verticals.
This makes CryptoGPT the first sustainable 'to earn' ecosystem that pays users for contributing data that is then sold in the global data marketplace.
What makes CryptoGPT (GPT) unique?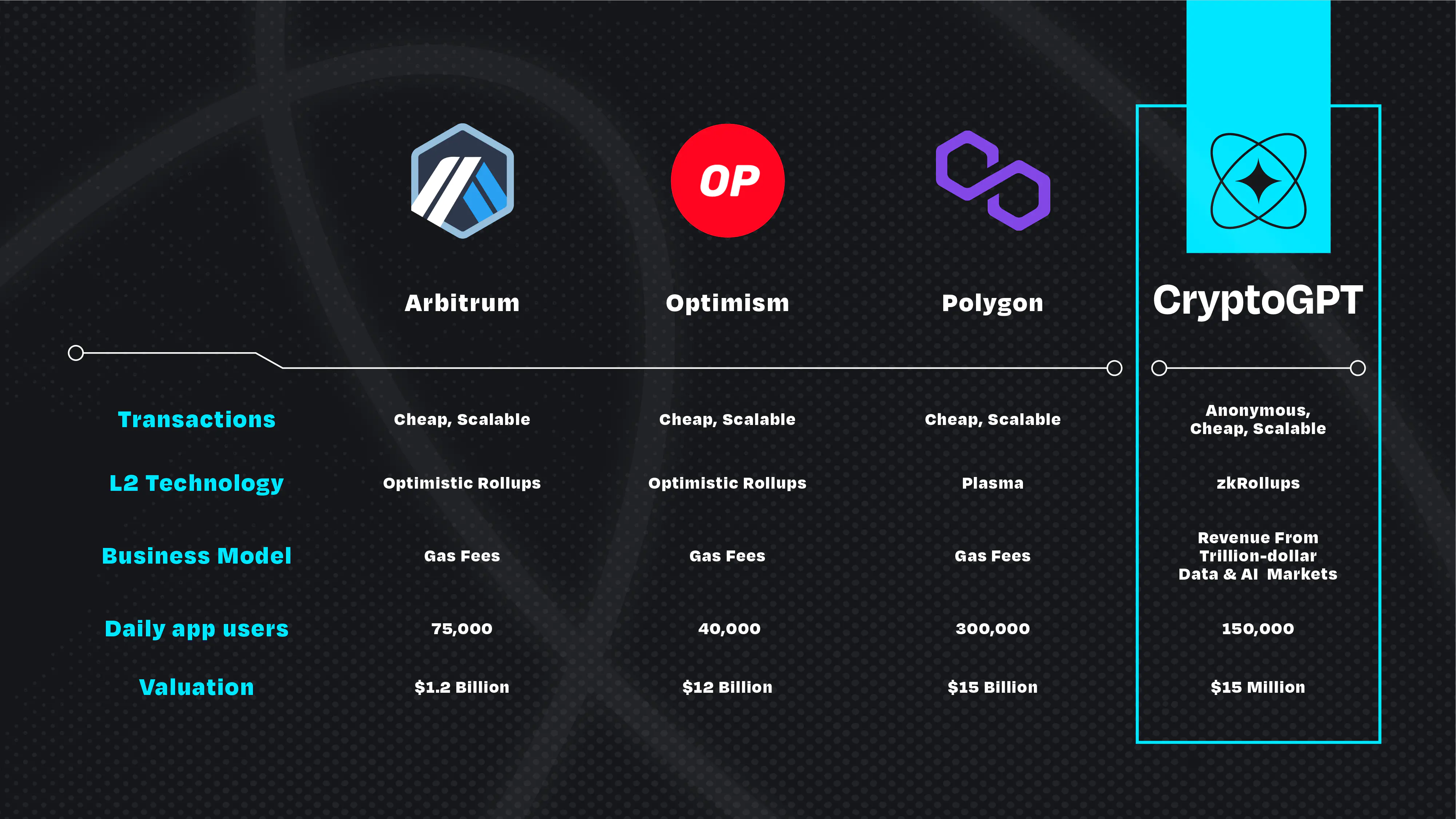 CryptoGPT is a the layer-2 that is the dedicated blockchain for AI development
Scalable Layer-2: CryptoGPT is a layer-2 that uses zkRollup technology.The unique EVM-compliance makes the protocol open to massive codebase libraries, enabling easy and rapid onramp of developers and users.
Truly Distributed: CryptoGPT is carefully designed to be a network uncontrollable by centralized influence. The mining model and security align with activity. #ProofOfActivity ensures the network's  security increases in parallel to adoption.
Totally Limitless: Immensely scalable, ultra low-cost transactions combine with empowering infrastructure – data capsules, AI tooling, pluggable earn launcher – to create a blockchain that can expand  the abilities of the global economy with the economics of AI.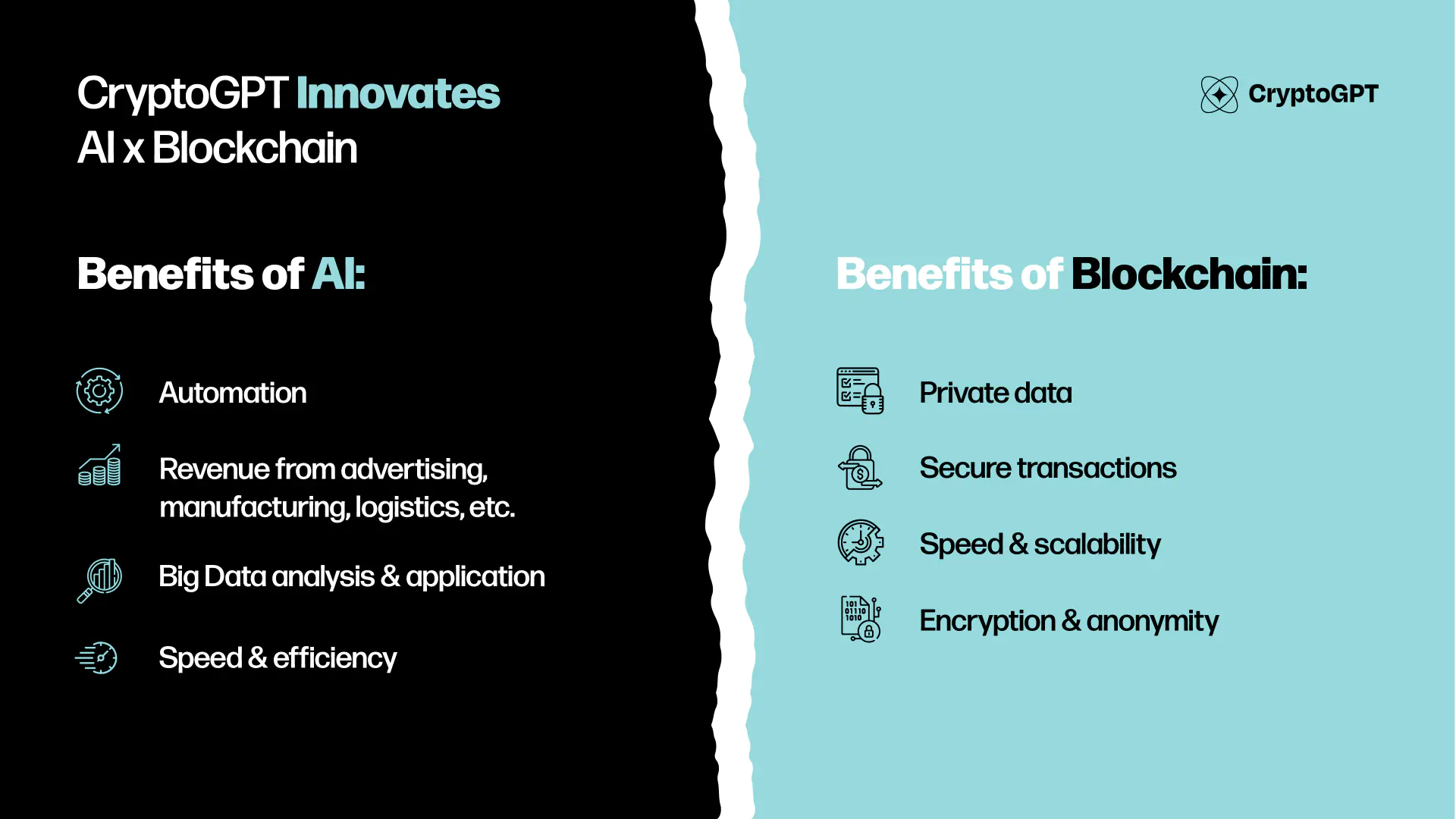 What is CryptoGPT (GPT) roadmap?
CryptoGPT (GPT) revenue streams
Data is set to become an asset class that powers the AI revolution. The increasing demand for high quality data to improve AI models is likely to lead to new companies creating a lot of value in the global data market.
Big Tech players – Meta, Google, Amazon and others – already created trillions in value from collecting and selling user data that the users never directly benefitted from. Building a decentralized solution where users choose to productize and earn from their data opens untapped sources of income.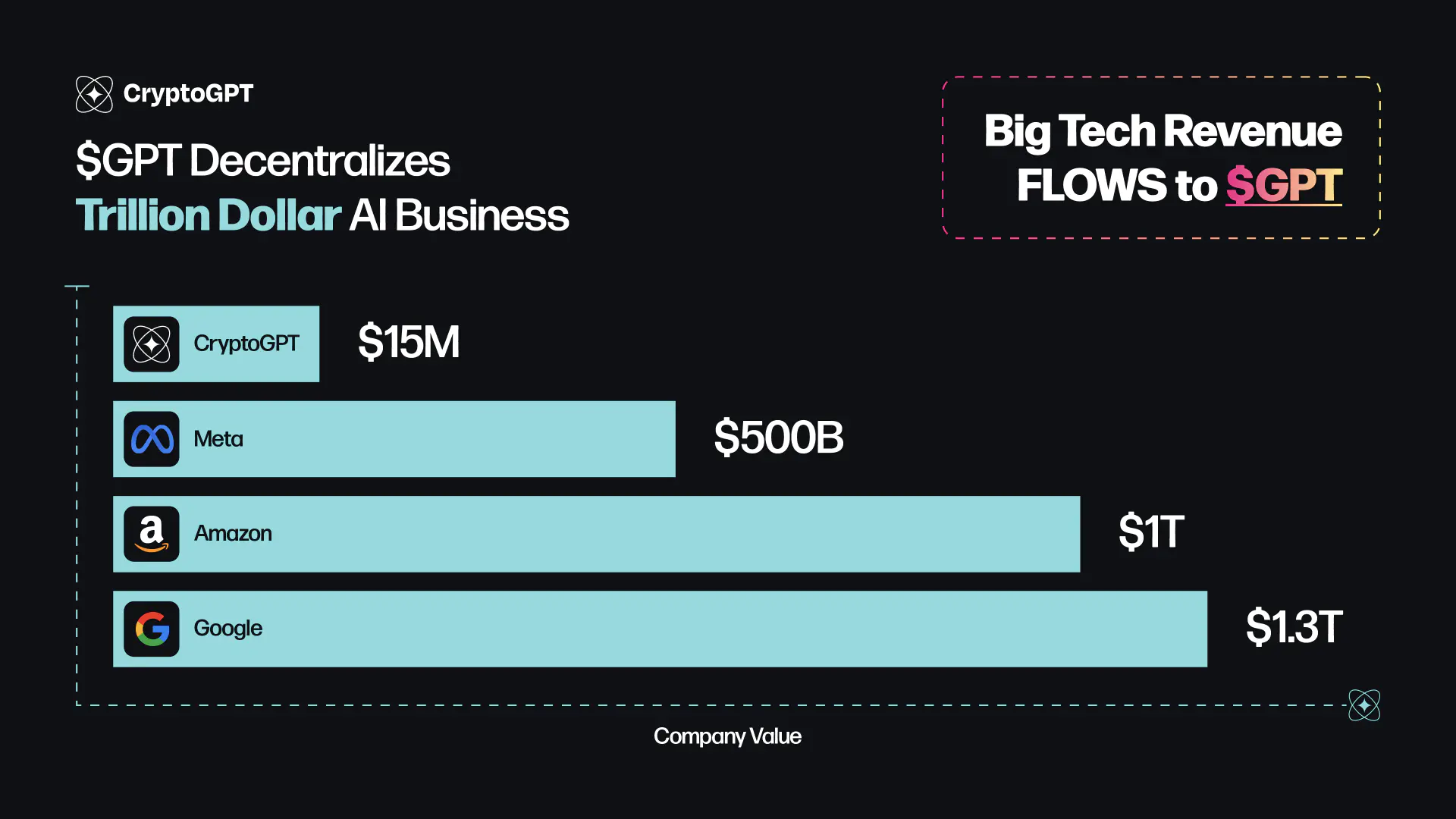 What is CryptoGPT (GPT) product dive?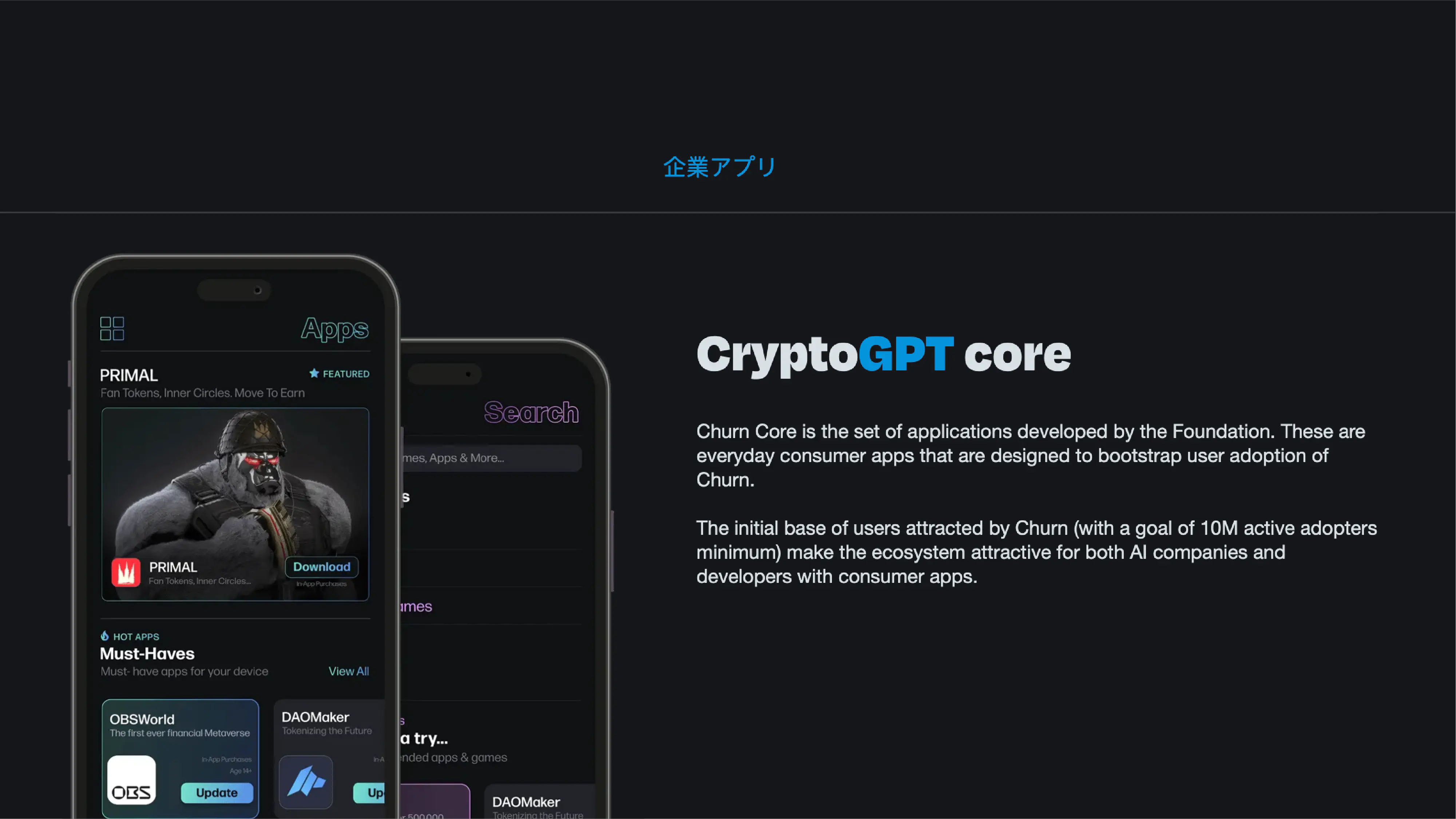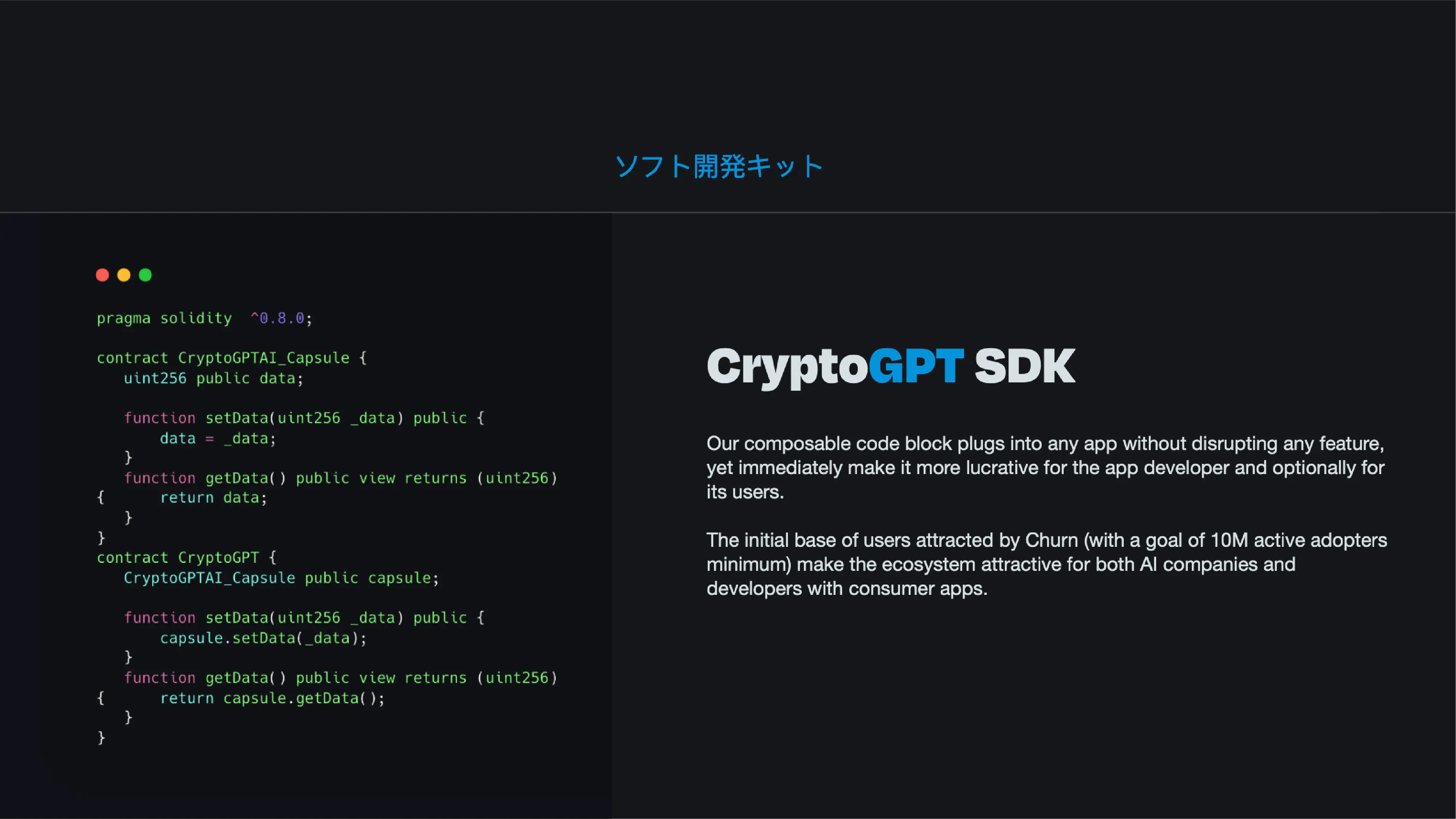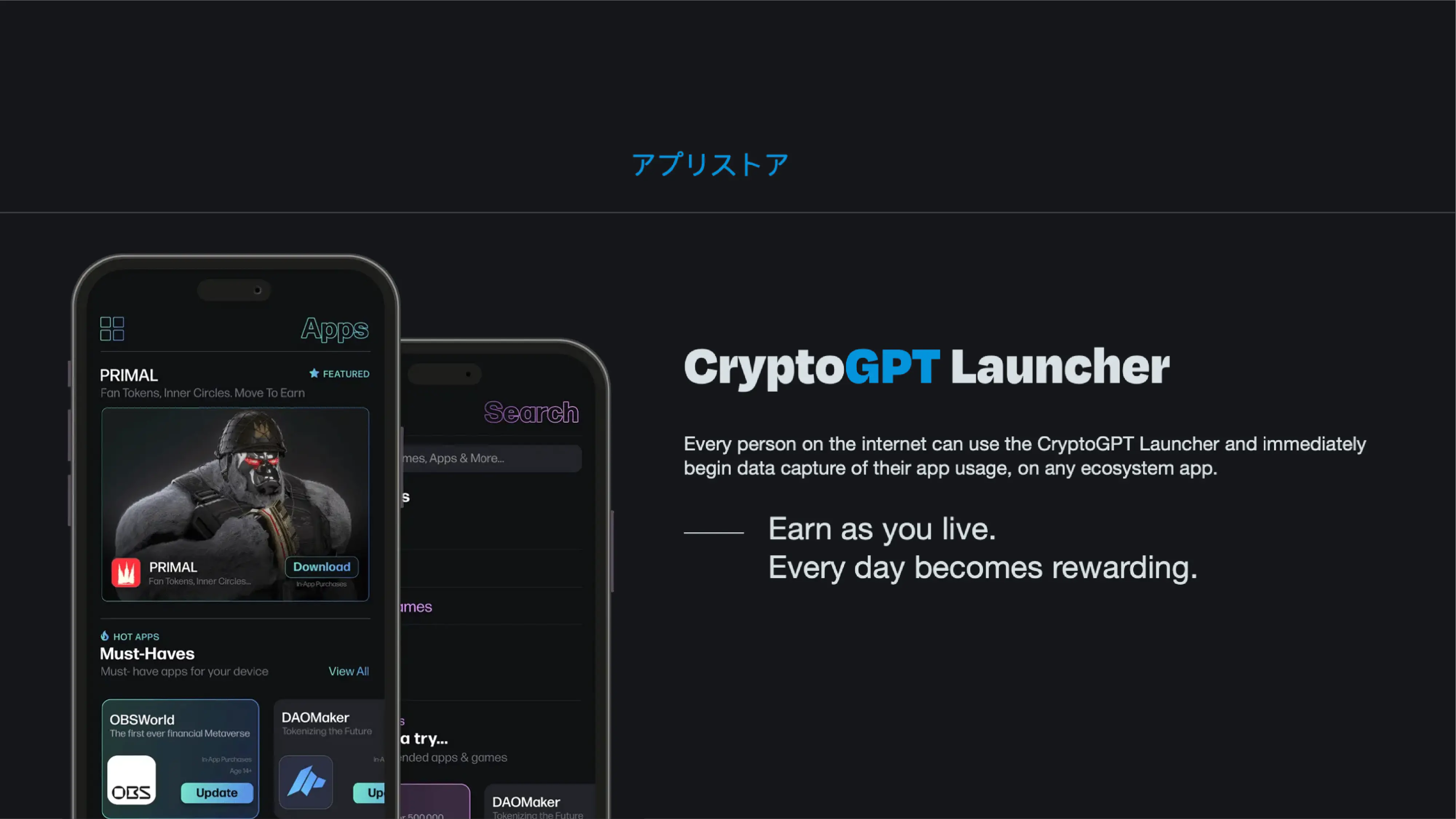 What technologies does CryptoGPT (GPT) use?
What is CryptoGPT (GPT) marketing strategy?
CryptoGPT is a unique blockchain infrastructure, employing a contrarian approach to attracting hundreds of new apps & users on the protocol.
We are unlocking mass adoption by offering apps and users new ways to monetize and productize something that they already have: data. This presents a no-brainer choice for apps to easily join and onboard onto the ecosystem via CryptoGPT SDK as they can obtain new streams of income they never imagined.
As an active contributor to the global data marketplace, CryptoGPT is providing value in three ways:
Apps onboard due to new cashflow from monetizing user data upon user consent
Users join due to #AItoEarn models where they can use the same apps, but get while doing so
Hundreds of businesses globally – in healthcare, insurance, finance, advertising, education, etc. – buy user data from native apps
What are CryptoGPT (GPT) tokenomics?
CryptoGPT is an Ethereum layer-2 and its native asset is the GPT token.
The GPT token is the first of its kind multi-value gas token. It has necessary demand as fuel for network transactions. It is topped up with value funnels from validator staking, cash flow from Core products, and power of fee treasury which can be deployed for liquidity events like buy backs, burns, and/or expanded yield.
Ecosystem Income
Every sustainable ecosystem requires income sources, and only then can sustainable value be created for its community. CryptoGPT has diversified income funnels, making it not reliant on any particular cause and robust against volatility.
GPT derives income from:
Gas fees
Core apps income
GPT Data Market revenue
Data Capsule NFT sales
Cash Flow to $GPT Token
GPT stakers, among a variety of utilities, get power of the ecosystem treasury. The ecosystem treasury is fed by certain ecosystem income funnels, and is the essential means of re-distributing the wealth generated by the AI revolution.
The treasury is deployed into:
GPT buybacks
GPT burns
Staking yield
Venture investments
Ecosystem Value
As the first of its kind multi-value native asset, GPT tokens have ecosystem value beyond gas. The tokens can be staked or held for a variety of powerful utilities, including:
Discounts on ecosystem products
Immediate liquidity for data miners and buyers
Network validation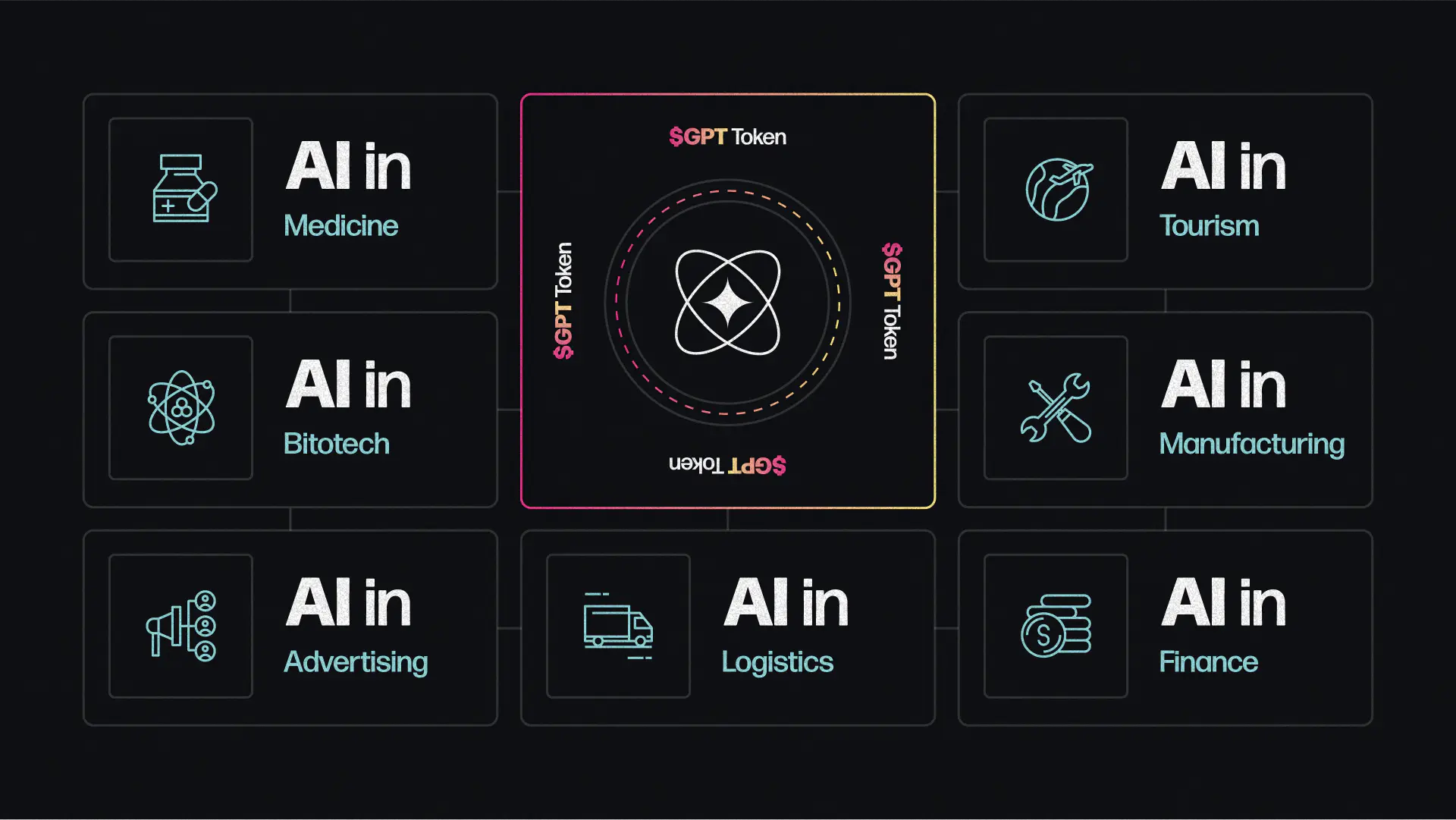 REGISTER ACCOUNT TO GET BIG BONUS 💰!

BINANCE | HUOBI | MEXC | KUCOIN | BYBIT | GATE | FTX | COINLIST

Follow us to get the best Whitelist Alerts:
Join Telegram: https://t.me/whitelist_alert
Follow Twiter: https://twitter.com/whitelistalert
Join Facebook Group: www.facebook.com/groups/whitelistalert
Bookmark the website: https://whitelistalert.com/