? Atlas Navi is a navigation app using AI and the smartphone cameras to avoid traffic by detecting road conditions, accidents, police, available parking and more❗️
---
---
‼️ This is a 0-cost SHO. A 0-cost offering means you don't need to pay for the allocation if you win. Open to everyone with more than $500 worth of tokens in the wallet ?
Blockchain: Etherium
Token Ticker: NAVI
Price per Token: $0.0825
Vesting: 20% at TGE, 3 months cliff and 8.89% per month.
Atlas Navi (NAVI) backers and partners: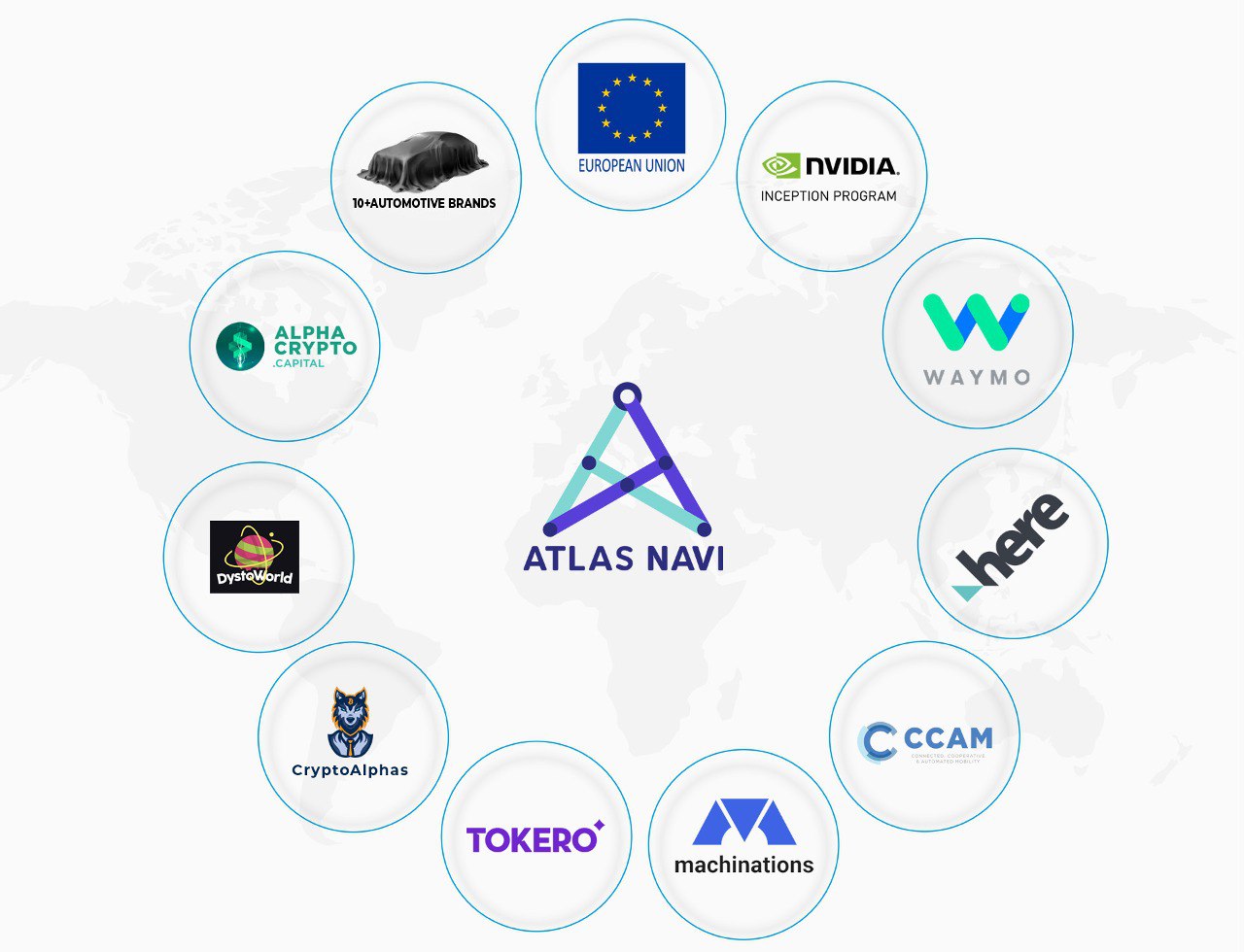 What is Atlas Navi (NAVI)?
Atlas Navi is the first Drive to Earn navigation app that uses A.I. and the smartphone camera to avoid traffic by detecting road conditions (closures, road work, potholes), accidents, traffic in each lane, available parking spaces, police vehicles and rerouting drivers. It features licensed 3D NFT vehicles and a Drive to Earn mechanism rewarding users for each mile driven.
What makes Atlas Navi (NAVI) unique?
Real product: launched public beta in July 2022 (200.000 downloads; 12.500 trips per day; 600.000 km driven daily)
Real token utility product that is demonstrated in the market with organic growth and no paid marketing
Experienced team: 12+ years of transportation software and running startups in this industry (6M+ downloads of our previous apps)
Unique and Innovative: uses new technologies that MAKE SENSE in the industry, a step forward for the navigation and automotive industry. Modern design and unique features.
Real potential for disrupting the navigation app industry
Sustainable economy: Drive to Earn reward system does not rely on NFT sales to pay previous users. Machinations.io partnership for app economy design, audit & monitoring.
Real Revenue Streams: premium features, smart city integrations, fleet accounts, commission on real services sold to drivers.
Licensed 3D NFTs from automotive brands with potential to become the leader in NFT vehicle sales from Automotive brands (aim of 100.000 NFTs / year)
European Union Innovation Grant awarded for over $1.2M; quarterly financial and technical / code audits throughout the product development.
Increasing demand for NAVI token: drivers earned over 14.000.000 $MILEs before TGE. To convert to NAVI, they must acquire a vehicle NFT => must buy NAVI from the exchange.
Unlisted reward token: lower volatility and higher control over rewards through MILE / NAVI exchange rate.
Modern Design and unique features unavailable in other apps.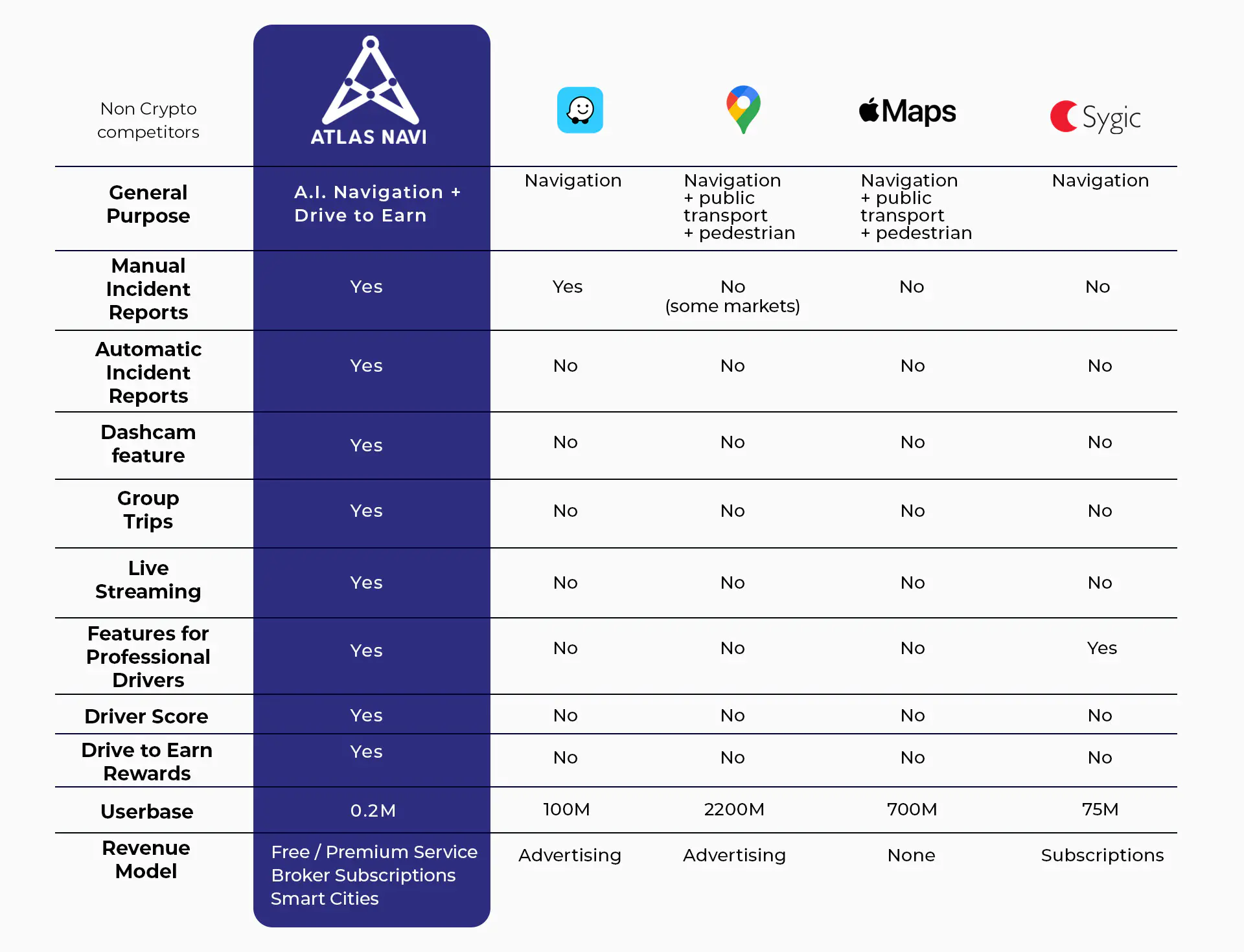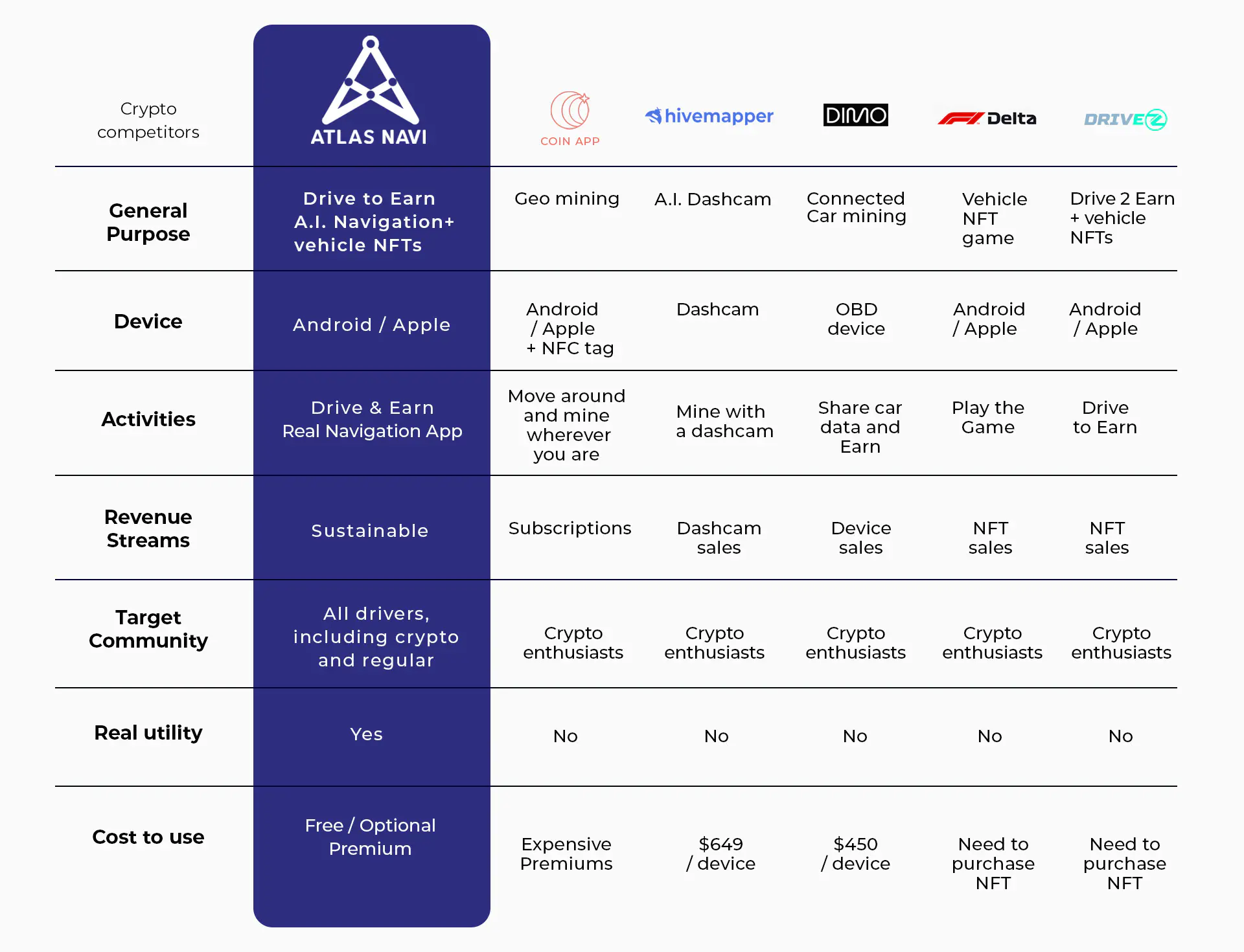 What is Atlas Navi (NAVI) roadmap?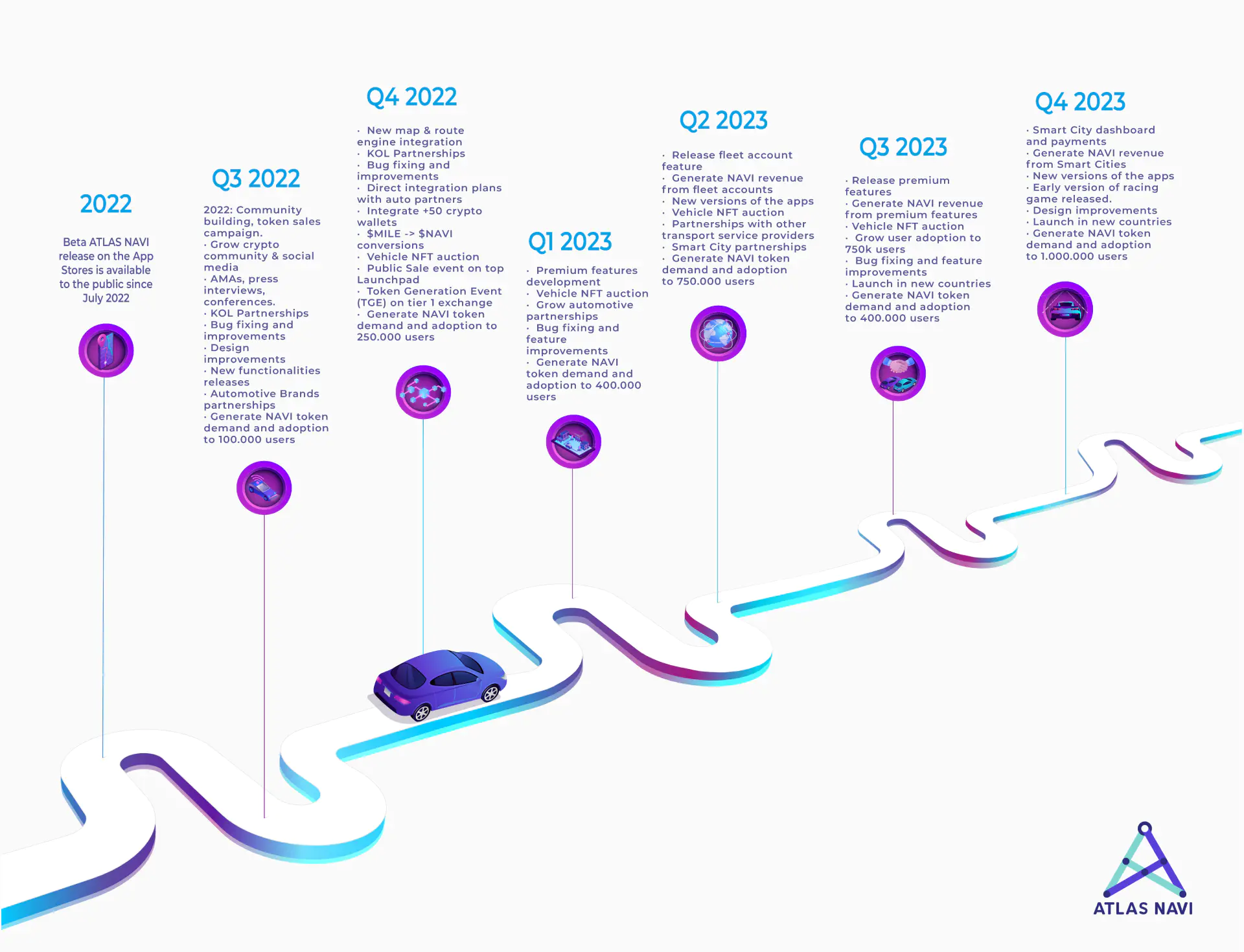 Atlas Navi (NAVI) revenue streams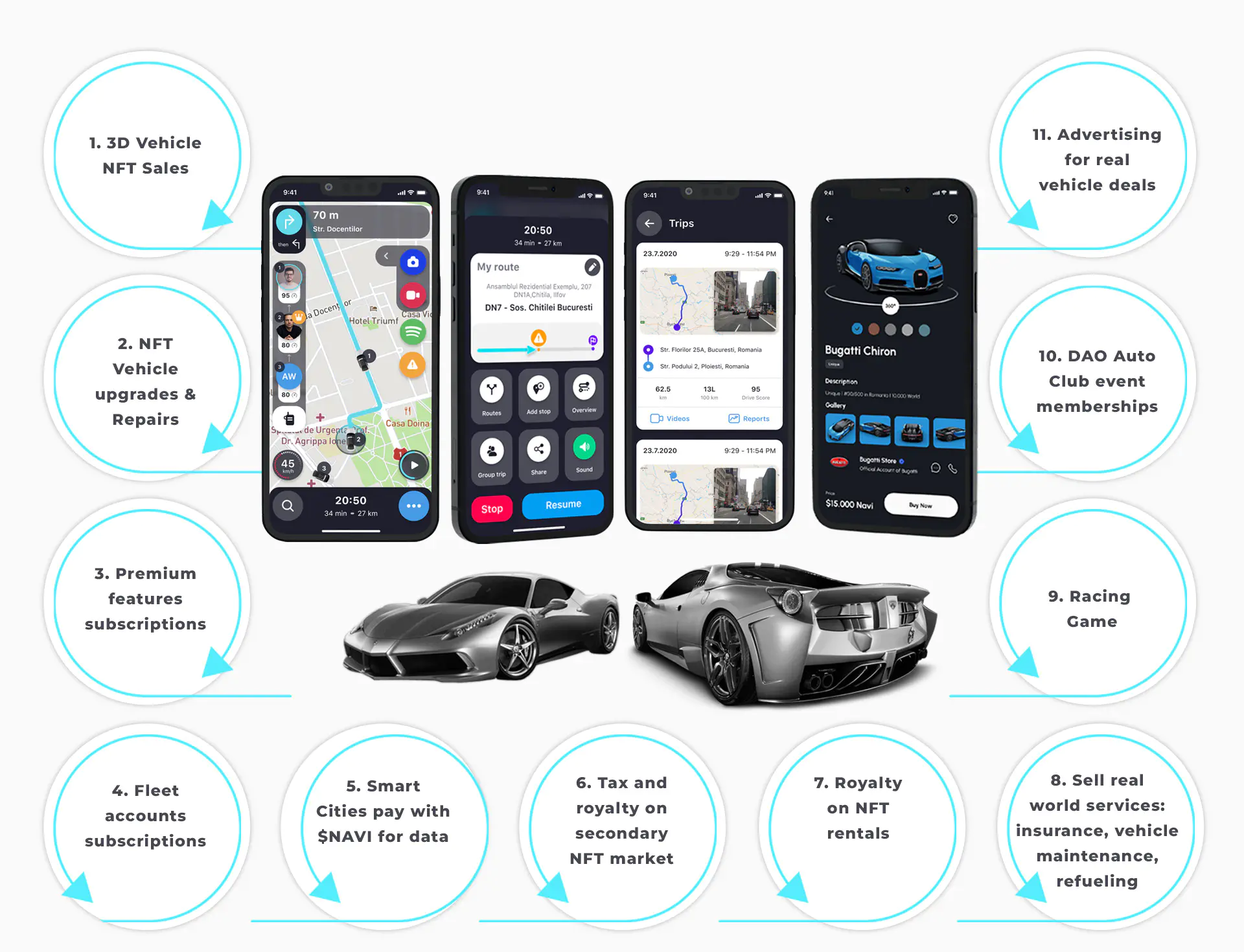 How does Atlas Navi (NAVI) work?
Atlas Navi is on iPhone and Android mobile app, available for FREE on the app stores.
Atlas Navi is a Drive to Earn A.I. navigation app that uses live video from your smartphone camera to analyze the road in front of you and automatically detect:
traffic in each lane (counting how many vehicles are in each lane in front of you)
road construction / road work signs
road closures
accident detection
police vehicles (some countries only)
potholes
available / free parking space
The app uses advanced computer vision (A.I.) algorithms to analyze the video feeds from your smartphone camera and detect all the above problems on the road. It does this in the background, without interfering with the navigation instructions. Atlas Navi analyses the road 25 times per second when used with the camera from your smartphone. It generates 100 times better data than other navigation systems, which helps reroute other drivers to avoid potential traffic congestion and dangerous situations. Based on these A.I. detections, the app reroutes other drivers on quicker, safer, and less congested routes.
Atlas Navi only uploads to the server the relevant information for traffic optimization: the type of detections and the GPS co-ordinates of said problem. No images or videos are uploaded unless specifically enabled by the user. If enabled, it can store your road trip recorded videos in the cloud, but the default option is to keep them on your device.
What is Atlas Navi (NAVI) marketing strategy?
Our marketing strategy focuses on acquiring and growing a large number of users, on converting some of them into paying users, on forming partnerships that either help Atlas Navi grow or generate revenues, on using traditional and new media outreach to grow a strong brand with a good reputation.
Acquire regular drivers (growth stage):
a) Driving Club are a Multi-Level-Marketing system to reward referrals
b) Social media groups for professional drivers
Convert users to paid subscribers (payable in FIAT or NAVI) through incentives, annual discounts and limited functionalities for the free plan.
Acquire Fleet Accounts: Reaching out to fleet managers in our databases and through partners and explain the value of using Atlas Navi for both dispatching drivers and navigation. We previously had 25.000 fleet drivers on our apps.
Increasing demand for NAVI token:
a) Drive to Earn mechanism – users earn $MILEs when they drive. To convert them to $NAVI, they need an NFT, which they have to purchase with $NAVI from the exchanges.
b) Adoption: user growth leads to users buying NAVI to pay for real world services, for premium subscriptions, for renting / buying NFTs, for Smart Cities to buy data that's relevant to them.
Partnerships: expand existing partnerships and create new ones. Existing partnerships include NVIDIA Inception Accelerator, HERE Maps Platinum Partner programme, WAYMO Developer Programme, EUROPEAN UNION Innovation Grant, EUROPEAN UNION Expert Advisor, MACHINATIONS.io, 12+ AUTOMOTIVE BRANDS, vehicle maintenance partners (over 20.000 locations in the USA) and more.
KOLs: We are working with multiple international KOLs and their management teams to co-ordinate marketing efforts.
Paid Advertising: crypto websites that convert users in buying NAVI tokens.
Public Relations: We work with two PR firms, one in EU and one in USA.
Community Building: 24/7 community managers for multiple international channels. Ambassador program is rolling out.
Automotive Brand perks: discounted / free experience days, test drives, invites to world class Auto Shows, vehicle unveilings invites and more.
Which technologies does Atlas Navi (NAVI) use?
Notable technology overview:
Machine learning with computer vision: Custom computer vision algorithms for detecting and automatically reporting road conditions, hazards, and traffic in each lane, available parking spaces, police cars, accidents and more.
Edge A.I. processing: video streams processed on the phone, in real time, video is NOT uploaded to the server.
Highly scalable server infrastructure.
Integrated in-app web3 wallet.
Matrix Routing algorithms for multi-stop trips.
Fleet dispatching, job allocation and asset tracking for fleet managers.
NFT licensing for 3D vehicles in the app.
Drive-to-Earn mechanism and variable reward system based on time, day, location and vehicle NFT.
Atlas processes 100x more data per mile than competing apps.
Over 50+ crypto wallets in-app.
Applying for various patents regarding our technology.
Atlas Navi has developed the following technologies:
Custom machine learning neural networks understand the road seen by smartphone camera.
Trained neural networks on 100 TB of images and videos to identify various objects on the road.
Extremely efficient Neural Networks, developed for real-time, on device, A.I. processing.
Dinamic routing based on specific segments of the roads which needed to be avoided.
What are Atlas Navi (NAVI) token utilities?
1) Premium features of the Atlas Navi Drive 2 Earn app: Users can use the navigation free of charge, with some premium, optional features. Premium features can be paid with fiat (USD) subscriptions or crypto / $NAVI tokens.
2) Drive 2 Earn Rewards: Users have to purchase vehicle NFTs with $NAVI if they want to earn rewards for each mile that they drive. Since available $NAVI supply will be very limited in the beginning due to the aggressive vesting schedule with daily linear release over 18 months, users will have to buy $NAVI on the open market to be able to buy NFT vehicles. This will push the price of $NAVI upwards even after listing and long after it.
3) Rewards are counted in miles driven, as points in the app. They can be exchanged for $NAVI inside the app whenever the user wants, based on the best $NAVI price available that day. The user can then choose to spend the $NAVI tokens for upgrades to their vehicles, repairs (vehicles need refueling / recharging + maintenance regularly based on how many miles they drove = acting as a value sink for the project).
4) $NAVI can be used to acquire vehicle NFTs, to repair, upgrade, refuel, maintain the vehicles in the user's garage.
5) DAO / Voting rights: Token holders can vote on what vehicles to be released next, what features to be developed next; can organize themselves in virtual and real-world Auto Clubs with paid / free events (paid in $NAVI) for participation.
6) Vehicle Manufacturers can offer awards, invites, experience days, test drives for new vehicle releases to the users who have the most NFTs of their brand for example. To get access to this data, they will have an AD Account, where they can post such offers to the community / intended audience. To post, they will need to spend $NAVI tokens acquired on the open market.
7) Smart City Administrations: some smart city initiatives are interested in purchasing some of the data generated by the A.I. They will be able to do so by topping up their account with $NAVI tokens from the open market and using them for the data they need.
8) Fleet / Dispacthing Accounts: Atlas Navi features a built-in dispatching / fleet management / driver monitoring / tracking solution for fleets with multiple vehicles. This is a paid feature most likely to be used by corporate users. It features the advanced navigation / route optimization / multiple-stop options desperately needed by couriers, delivery vans and truckers wordwide and unsatisfied by current applications. This feature will be paid in $NAVI tokens acquired on the open market. This module already exists and works well as it is part of our legacy software currently used by over 25.000 drivers worldwide.
9) Purchasing of real world services payable in $NAVI: insurance, vehicle maintenance, car washes, refueling.
? Good Luck to all Whitelist Alert Family ?

REGISTER ACCOUNT TO GET BIG BONUS 💰!



Follow us to get the best Whitelist Alerts:
Join Telegram: https://t.me/whitelist_alert
Follow Twiter: https://twitter.com/whitelistalert
Join Facebook Group: www.facebook.com/groups/whitelistalert
Bookmark the website: https://whitelistalert.com/